The Lone Star African Violet Council (LSAVC) is an association of individuals with an interest in African Violets. LSAVC was founded in 1975 and is a resource for African Violet enthusiasts across the state of Texas.
Members of LSAVC, including local African Violet Societies and individuals, are interested in sharing information about the culture of African Violets and other gesneriads. LSAVC members work to stimulate interest in African violets by providing educational activities and judged African violet shows in communities statewide.
Lone Star 2023 Convention and Show, Kerrville
The Magic Knight African Violet Society and First Austin African Violet Society would like to invite you to the 2023 LSAVC Convention and Show in Kerrville, Texas. The convention will be held on October
26 – 28, 2023 at the Inn of the Hills Hotel and Conference Center, 1001 Junction Highway, Kerrville, Texas
Hotel Rates: 2 Queens in a cabana $159/night + tax and fees, 2queens in a regular room $129, 1 King $129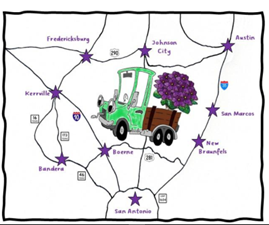 Lone Star Convention and Show Registration:
---
Lone Star 2022 Convention and Show, Houston
Complete list of winning exhibits and photos of the top winners are on the 2022 State Convention and Show Houston page (also available from the Past Conventions Menu on the left).